Free DBT Opposite to Emotion Worksheet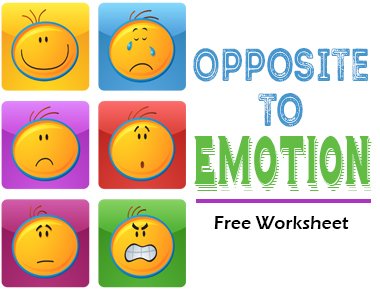 Opposite to Emotion, often referred to in DBT by O2E (oh-2-ee), recognizes that emotions pull us into "mood congruent" behaviors that get us stuck. Mood congruent behavior occurs when, without awareness, we fall into behavior patterns that keep certain emotions around. As examples, depression leads to isolation and inactivity, anxiety leads to avoidance, and anger leads to hostility.
When mood congruent behaviors strike, O2E is the heavy-hitting answer clients go to…in my years doing DBT it has been a favorite skill because it works so well.
Using Opposite to Emotion means approaching our fears one step at a time and learning to tolerate the distress that comes with it. To do this effectively, we use mindfulness to desensitize ourselves and distress tolerance when we feel too overwhelmed. The more we approach rather than avoid, the more our nervous system learns to be "bored" and the less anxious we feel. This approach takes the power out of the thoughts.
Whether or not your emotion or the intensity of it is justified depends on the situation, the facts, and other potential factors. Opposite to Emotion is not meant to invalidate the real emotions we experience. Instead, Opposite to Emotion is intended to get us unstuck from prolonged and overly intense emotional states by recognizing behaviors that do not work and instead choosing those opposite behaviors that are more effective. In other words: Do less of what does not work and more of what does in order to change your emotions. Use the following Opposite to Emotions worksheet with your clients to help them regulate their emotions.
Use the following Opposite to Emotion Worksheet with your clients.
Lane Pederson Psy.D, LP, has provided Dialectical Behavior Therapy (DBT) training and consultation to over 10,000 professionals in the United States, Australia, South Africa, Dubai, Canada, and Mexico through his training and consultation company, Lane Pederson and Associates, LLC (www.DrLanePederson.com). A real world practitioner, Dr. Pederson co-owns Mental Health Systems, PC (MHS), one of the largest DBT-specialized practices in the United States with four clinic locations in Minnesota (www.mhs-dbt.com). At MHS Dr. Pederson has developed DBT programs for adolescents, adults, people with dual disorders, and people with developmental disabilities. He has served as clinical and training directors, has directed practice-based clinical outcome studies, and has overseen the care of thousands of clients in need of intensive outpatient services.
Dr. Pederson's DBT publications include The Expanded Dialectical Behavior Therapy Skills Training Manual, Second Edition (PESI, 2017); Dialectical Behavior Therapy: A Contemporary Guide for Practitioners (Wiley, 2015); and Dialectical Behavior Therapy Skills Training in Integrated Dual Disorder Treatment Settings (PESI, 2013).
---
Imagine your toughest clients...the clients that other therapists have given up on...
YOU can be the therapist finally able to help them break through severe and chronic problems including personality disorders, self-destructive behaviors and more!
By completing Dr. Pederson's 8-Week Intensive DBT Certificate Course available in a convenient online format, designed to fit seamlessly into your busy schedule.
When you complete this intensive training, you'll be prepared to effectively apply proven DBT techniques and tools in your practice in a flexible way, specific to your client population, to improve treatment outcomes and your practice.
Lock in your spot and begin transforming the lives of even your most difficult clients.