Perinatal symptoms can often be difficult for new moms to talk about. Concerns related to shame, stigma, and guilt can lead a mother to suffer in silence. It is important for clinicians to recognize the signs and symptoms of common struggles that occur during the postpartum period and know compassionate strategies to help mothers cope.
Concern 1: Postpartum Anxiety
Postpartum anxiety can be difficult to decipher between normative worrying and excessive worry. As a clinician, it is important to assess how impactful these symptoms are on your patient's day-to-day life.
Some typical signs that can be important to explore are intrusive thoughts, racing thoughts, difficulty concentrating, fears related to self and baby, changes to appetite, difficulties sleeping/resting, emotional overwhelm, and physical symptoms (such as panic attacks).
Concern 2: Postpartum Rage
Postpartum rage is often an overlooked symptom of postpartum depression or anxiety. Postpartum rage can be anger directed towards yourself, your partner or family, and your child (yes—even your child or children). Postpartum rage can present itself in many different ways. For some, it can be a slow, burning anger while for others it may appear more explosive. Patients will often describe their emotions as scary and feel as though those emotions are difficult to control.
Concern 3: Postpartum Burnout
Like postpartum anxiety, burnout can be difficult to assess. As a clinician, it is important to explore what symptoms your patient is experiencing and how impactful it is on their day-to-day functioning. Some important symptoms to explore are a lack of energy, feelings of hopelessness, being quick to anger, the inability to do something for yourself, a decrease of interest in relationships, and feelings of dragging from one task to another.
One of our favorite strategies: Basic Needs Check
How is your patient doing at prioritizing and make space/time for their own needs? Clinicians need to create a good foundation and build this skill up to help clients combat the struggles highlighted above.
To start checking on your clients' needs, you'll want to start simple and small. Try not to go too big picture on them. And don't expect a change to happen right away. Keep practicing and be realistic about how much can change and how quickly it can change.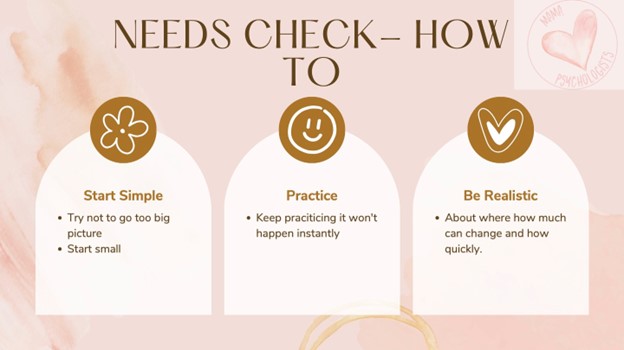 And remember that one of the most powerful tools you have is to provide a sense of safety and security for your clients to be able to express these challenging concerns.